On May 13th the Green Gym's workers spent a morning thinning some of the abundantly growing hawthorn trees from the understorey to allow the developing hazel, field maple and ash a better chance to thrive.
They will be visiting again later in the year. As always, we are very grateful for their hard work which achieves so much in such a short time.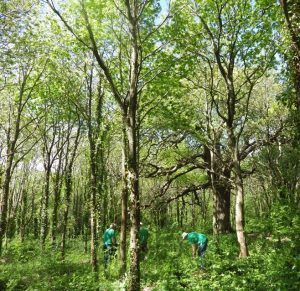 Photo courtesy of the Green Gym.
Other work continues with repeated strimming of the nettles and horse's tails on the area between the five barred gate and the archway entrance, with the eventual aim of turning this into a grassland and wild flower section.