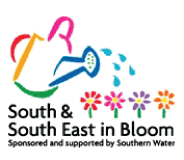 Play Lane Millennium Green (PLMG) is pleased to announce that they have once again been awarded 'Outstanding' in the South and South East in Bloom Awards for 2019.
PLMG is situated towards the south-west of Ryde and provides a 'breathing space' between the residential areas of Binstead and Haylands.
The Green, adjoining Dame Anthony's Common, is open to the public and is free for anyone to enjoy.
This news comes just a month after the community asset received the Green Flag Community Award for the 8th year in succession.
Ian Stephens, Isle of Wight Council and Ryde Town Council said:
"Fantastic achievement and really well deserved.

"During the last few months, I've taken a few strolls through the Green, on my round of the district, and found it to be a peaceful place…and offered the opportunity to sit, rest and contemplate.

"The award bears testimony to the sustained commitment by all involved,

"Congratulations!"
A trustee of Play Lane Millennium Green has said:
"This is a testament to all the hard work put in by so many people over nearly twenty years.

"We would like to take this opportunity to thank all the people who help maintain the Green – the Trustees, the Green Gym, the dog walkers and passers-by who litter pick on a regular basis to help to keep it looking pristine.

"Donations made by the public help PLMG massively as we have to cover costs of around £500 each year, which include Public Liability Insurance, regular management of bramble and scrub clearing as well as thinning of the oak trees to encourage optimum growth."
More information on the green can be found throughout our website at www.playlane.org.uk