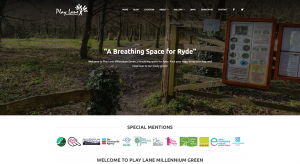 Welcome to the new Play Lane Millennium Green website for Ryde on the Isle of Wight. 
Thanks to the generosity of our web developer, we have been gifted with a new fresh website for the summer of 2018!
As well as a new website, we now also have a new logo to represent the Green in a more meaningful way.
The design kept the original three shades of green, although a few font changes and a new icon, this time of a tree, or a person reaching out to welcome you in.
Share with us what you think of our rebrand, and the updated website, and as always please do submit suggestions on how you'd feel Play Lane Millennium Green could be improved.