Welcome to
Play Lane Millennium Green
Our Aim is to provide and maintain an open space to be known as Play Lane Millennium Green for the benefit of the inhabitants and wildlife, to be used forever for recreation and enjoyment of the countryside.
Come and enjoy the beautiful surroundings. Stand on the dipping platform over the pond and look for newts and frogs. There are often dragonflies and damselflies flitting across the water in the summer months.
Our Butterfly Meadow and other parts of the Green now support a large variety of wildflowers and insects. It is interesting to see the changes at different times of the year.
The majority of the footways are now stone based, thanks to the help of many people in getting the material to the site and laying and compacting it to form a hard-wearing surface.
Without the continued support from the organisations listed below, the Green would not be as it is today and we are grateful to everyone who has helped in so many different ways.
Hundreds of pounds are spent on the Green each year managing and maintaining it for all to enjoy, from local inhabitants to holidaymakers visiting the Isle of Wight. Even a small donation can help in this work.
As Play Lane Millennium Green is open for everyone to enjoy, we must have Public Liability Insurance. We also have to carry out regular management of bramble and scrub clearing as well as thinning of the oak trees to encourage optimum growth.
Donate
A big thank you to our
Sponsors & Supporters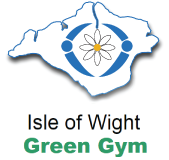 Please remember to take your rubbish home with you.