On Tuesday January 21st 2014 a rowan tree was planted by the friends and family of Ruth Hartwell, (nee Edgcumbe), who died in October 2013.
The foggy, damp weather gave way to a few shafts of sunshine, just as everyone arrived for the ceremony.
The tree is sited on the newly cleared area near the archway entrance and once established the berries will be another source of food for birds.
Ruth lived in Binstead as a child and would have known the Play Lane area well.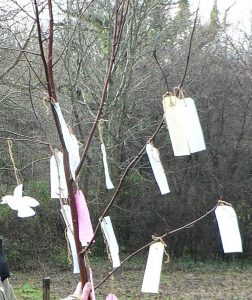 After the planting, some poems were read and then all those present tied labels with proverbs and sayings to the tree.